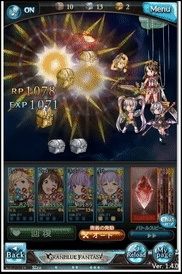 Flip Chests
are gold chests typically from raid or event bosses that perform a little flip under a rainbow while playing a
special sound
.
Flip chests for SSR weapons/summons are notorious for having abysmal drop percentages (the most commonly cited number is 2%). However, depending on the boss being killed, they also usually guarantee a rare item of some sort.
Tier 1 Raids
Edit
The commonly farmed Omega raids have a possibility to drop 2 flip chests normally, with the vice MVP gold chest also given a chance to flip. The two normal flip chests are separate (in other words, there is an infinitesimal chance that you can get both of them at once), and the loot from one of the two chests is known to always be an Omega summon, while the other chest has one of the four Omega weapons associated with that boss. The vice MVP flip chest can be either a weapon or a summon.
Tier 2 Raids
Edit
There isn't as much data on the tier 2 raids yet, but what is known is that they do not drop Omega summons, but have added the tier 2 raid weapons to the pool. The assumption, then, is that there is only 1 possible flip chest that can contain any of the 6 weapons. There is another flip chest that drops Omega Animas.
Tier 3 Raids
Edit
Same as tier 2, there isn't as much data on the tier 3 raids yet, and they drop Omega weapons in addition to tier 3 raid weapons.
Rank 80 Raids
Edit
Proto Bahamut and Grand Order switch things up a bit since they can drop rare crafting materials, which also come from a flip chest.

Supreme Merits and

Blue Sky Crystals, unlike previous flip chests, replace normal drops (usually

Champion Merits) and eschew the 2% drop rate, while the

Horn of Bahamut replaces the guaranteed Rusted Weapon drop but still has a very low drop rate.
Impossible Raids
Edit
For the tier 1 raids, in addition to the same summons/weapons as the Extreme versions, they also have a 100% chance to drop matching-element Centrums, which always flip.
For the tier 2 raids, in addition to the same weapons as the Extreme versions, they also have a 100% chance to drop matching-element Urns, which always flip.
Maniac and Nightmare bosses have a low chance to drop Urns corresponding to the boss's element in flip chests. In addition, Very Hard and above bosses can drop event 03

weapons and/or summons from flip chests, with higher difficulties having higher chances. The rate of event flip chests is much much higher than 2%.
Ad blocker interference detected!
Wikia is a free-to-use site that makes money from advertising. We have a modified experience for viewers using ad blockers

Wikia is not accessible if you've made further modifications. Remove the custom ad blocker rule(s) and the page will load as expected.