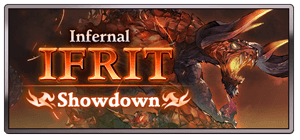 Ifrit Showdown is one of the Rotating Showdowns. It rewards items used to trade for the Ifrit summon. It is preceded in rotation by Diablo Showdown and followed in rotation by Cocytus Showdown. It may share a rotation with Cocytus Showdown during special events, such as 1/2 AP special quests.
For New Players
Edit
Ifrit Showdown can be farmed on Hard or Very Hard fairly easily for newer players, allowing them to easily accumulate event items. For newer Fire players, unless you happened to draw a good Fire ATK summon, getting at least 1 copy of Ifrit to use as your main summon will be very beneficial.
The 03
Ifrit Halberd spear is worth keeping if you find any, but don't bother with any of the 02

weapons. While the spear may not have a spot in your grid later on, it has a good skill which makes it worth keeping to use with Spartan or Sage later on. Newer players will be unable to unlock the level 120 skill as that requires a 4★ uncap, which is extremely material-intensive to unlock.
As with all showdowns, you can buy 5

Half Elixirs per month, one per day, and you should be able to get enough materials to buy all 5 each month while using less than 250 AP, so it's worth spending the time to farm materials.
Found in Quests > Special, there are 4 quest difficulties:
Harder difficulties have more trash enemies before reaching Ifrit, but there is a higher chance to receive more and rarer drops.
Event Shop
Edit
The event shop sells the Ifrit summon and Fire weapons. Items restock with higher costs when sold out.
Inventory
Item
Cost
Limit

Ifrit summon
First time
Ifrit Anima x20
Scorching Peak x30
Ifrit Omega Anima x10
1
Second time
Ifrit Anima x40
Scorching Peak x80
Ifrit Omega Anima x30
1
Third time
Ifrit Anima x60
Scorching Peak x120
Ifrit Omega Anima x50
1
Ifrit Halberd

First time
Ifrit Anima x15
Scorching Peak x20
Ifrit Omega Anima x5
1
Ifrit Blade

First time
Jasper Scale x10
Ifrit Anima x5
Scorching Peak x3
1
Ifrit Dagger

First time
Jasper Scale x10
Ifrit Anima x5
Scorching Peak x3
1
Ifrit Axe

First time
Jasper Scale x10
Ifrit Anima x5
Scorching Peak x3
1
Angel Queen
Jasper Scale x10
5

Half Elixir

Jasper Scale x5
Scorching Peak x5
1/day
5/mo

CP

x10
Jasper Scale x10
Scorching Peak x3
20

Champion Merit

Jasper Scale x30
Scorching Peak x15
Ifrit Omega Anima x5
3

Supreme Merit

Ifrit Anima x50
Scorching Peak x60
Ifrit Omega Anima x20
3
Fury Pebble
Jasper Scale x20
Scorching Peak x20
Ifrit Omega Anima x3
3
Fury Stone
Ifrit Anima x30
Scorching Peak x50
Ifrit Omega Anima x10
3
Ad blocker interference detected!
Wikia is a free-to-use site that makes money from advertising. We have a modified experience for viewers using ad blockers

Wikia is not accessible if you've made further modifications. Remove the custom ad blocker rule(s) and the page will load as expected.