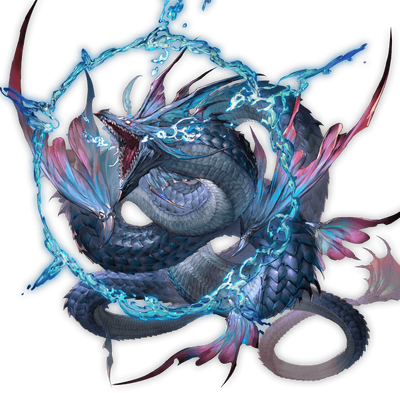 Leviathan is one of the bosses of the main islands. It is first encountered in the Auguste Isles. Outside of the main quest line, it is a raid boss.
Leviathan [NORMAL]
Edit
Leviathan [HARD]
Edit
Leviathan Omega [EXTREME]
Edit
Leviathan Omega is summoned from Zinkenstill from the bottom area, Azure Sky Gate.
Charge Attacks

Water Wedge - Water damage to all allies and inflict 25px

Halberd of Water

.
Perilous Tidefall - big Water damage to 2 random allies. Can be used in Overdrive.
Reflecting Water - Water damage to all allies and gain

Repel

. Only used in Overdrive.
Strategy
Edit
Leviathan Omega has two brutal charge attacks that are cornerstones of the fight. Perilous Tidefall will inflict heavy damage without Water resist, while Reflecting Water can knock out entire teams if not dispelled. Since Leviathan only has two charge diamonds, it's highly recommended to have a Dark Fencer in order to ensure you'll have the required skills up. Leviathan has similar break timings to Yggdrasil and Tiamat (requiring a bit more damage due to higher health, of course) and no triggers or enrage, so once you can deal with its Charge Attacks the fight becomes much less scary.
Leviathan Omega [HIGH LEVEL]
Edit
Ad blocker interference detected!
Wikia is a free-to-use site that makes money from advertising. We have a modified experience for viewers using ad blockers

Wikia is not accessible if you've made further modifications. Remove the custom ad blocker rule(s) and the page will load as expected.