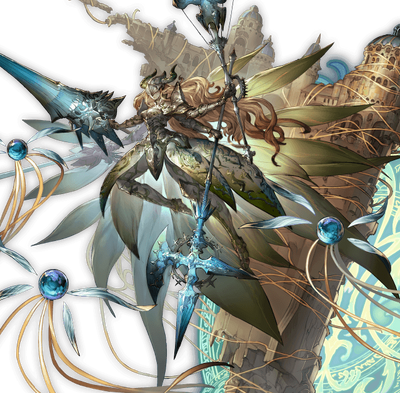 Luminiera, known as Chevalier in Japanese, is the story boss of Albion Citadel and a raid boss. Due to events in the story, she is initially encountered in the form of Adversa.
Adversa [NORMAL]
Edit
Adversa [HARD]
Edit
Luminiera Omega [EXTREME]
Edit
Luminiera Omega is summoned from Zinkenstill from the right area, Azure Sky Passage.
Skills

Aegis Merge

Clears all Status Effects on self.
Used as the first action per player while above 50% HP.

Aegis Unmerge
Blade of Light

Light damage to random allies 5 times and clears all buffs. Last hit inflicts

Paralysis

.
Used as the first action per player while below 50% HP.

Charge Attacks

Aegis Merge while above 30% HP.
Blade of Light while below 30% HP.
Strategy
Edit
Luminiera is best done with a small but coordinated party, if not solo. If it isn't obvious, Dispel is absolutely required because you aren't getting anywhere against defense up, 90% resist, and 65k Refresh. Outside of that, you have to be very careful with which debuffs to cast, as

Sacrificed will ramp up Luminiera's attack to the point where she can 1HKO characters with double attacks. In general, you'll likely want to stick with strong debuffs and

Blind/

Charm, ignoring anything else. It can also be worth it to bring extra Dispels, since a Dispel at any time causes Aegis Unmerge and gets you a free turn. Unless you're attempting a complete solo of this fight, you don't need to worry about Blade of Light, since you should have MVP secured and can just open it to everyone when she casts it. If you want to 100% the fight, a

Substitute skill can draw the entire attack to one unit.
Luminiera Omega [IMPOSSIBLE]
Edit
Unlock by hosting and defeating Proto Bahamut. You summon the 18-man raid Luminiera Omega (Impossible) from Albion Citadel at the north-east area, Erste Empire Battleship. Luminiera Omega (Impossible) always drops a
Niveus Centrum, which are required to 4* uncap Luminiera Omega weapons. There is also a chance to get a wooden chest with a random low-value

Mirage Munition.