This page is about the tier 2 raid. For the summon stone, see
Medusa
.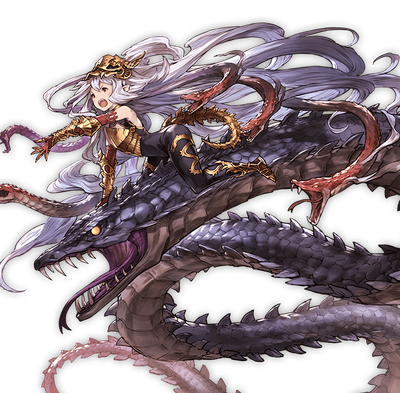 Medusa is a tier 2 raid who can be summoned from Lumacie Archipelago at the eastern area, Nameless Ruins, Blackmoon Forest. If you own the Medusa summon, hosting and defeating Medusa will unlock the summon's blue star.
Impossible
Edit
After hosting and defeating Yggdrasil Omega (Impossible), you will be able to summon the 6-man raid Medusa (Impossible) from the same location as the Extreme version, Lumacie Archipelago, Nameless Ruins, Blackmoon Forest. Medusa (Impossible) always drops a
Earth Urn, which are required to 4* uncap Yggdrasil Omega weapons.
Ad blocker interference detected!
Wikia is a free-to-use site that makes money from advertising. We have a modified experience for viewers using ad blockers

Wikia is not accessible if you've made further modifications. Remove the custom ad blocker rule(s) and the page will load as expected.